School Lunches
We believe that the school lunchtime is a great opportunity for all our children to sit down together and enjoy their healthy and tasty meal, while developing their social skills. We therefore hope that all parents will take up this offer of a free school meal for their infant children. We do understand that some children will want to bring their own packed lunch.
Our school lunches are provided by HC3S.
At HC3S, we believe your child should have healthy, flavoursome food, so that's exactly what we provide. You don't have to worry about the calories either: our lunches are always set up to provide one third of your child's daily allowance.
Want to know more about HC3S?
---
Healthy packed lunches
It is important that children are eating a healthy, balanced lunch at school. This means plenty of foods that contain the nutrients that children need, and fewer foods that are high in sugar and saturated fat.
Packed lunches that are brought to school must be healthy and balanced and should NOT contain sweets or any form of chocolate spread.
For lunch box ideas, please find some sites below that offer ideas and advice:
www.nhs.uk/livewell/childhealth6-15/pages/lighterlunchboxes.aspx
https://realfood.tesco.com/search.html?Collection=Kids%27%20lunchbox#!q='perpage%3D30%26Collection%3DKids%2527+lunchbox'
Due to allergies we ask that NO nut products are brought into school.
All children should bring a water bottle each day to school containing water only.
Bobby Bear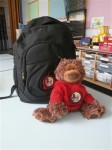 Bobby Bear is the lunchtime mascot, children can earn tokens for their class by demonstrating respectful behaviour at lunchtime. The class who achieves the most tokens in the week is announced in Friday's assembly. They then get to look after Bobby Bear for the week and different children will take him home for the night to share their adventures outside of school. Bobby Bear has its own adventure diary, sleepover bag and 2 sets of pyjamas. The bear's aim is to encourage children to make good choices and be respectful at lunchtime.
Respector Table
Every Friday in the lunchtime assembly the Supervisory Assistants invite a child from their class to be on the Respector table the following Monday. The child is chosen because they have been noticed particularly for their respectful behaviour. They may for example have demonstrated kindness to a child or adult, been seen taking care of the school or been especially polite. The child chosen is given a certificate and is able to bring a friend along to have lunch with them on the Respector table.