The Federation of Elson and Gomer Infant Schools Governing Body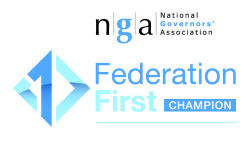 Would you like to join us on the Governing Body?
We are currently looking for members of the community to join us on the Governing Body of the Elson & Gomer Infant School Federation.
We would be especially interested in speaking with you if you have expertise/knowledge with regard to property management or income generation.
However, if you have an interest in education, and a passion to ensure that we continue to provide the children with a safe, nurturing, happy environment in which together we can all shine, then we would very much like to hear from you!
Please notify the administrative staff at either school if you are interested in this rewarding role and they will put you in touch with a governor for a chat.
Name
Category
Appointed by
Term of Office(no. of years & end date)
Committee membership
Responsibilities
Voting Rights (if Associate Member)
G Duff
Co-opted
GB
4
28/06/2023
Quality Teaching, Learning Outcomes and Assessments (QTLO&A) committee
Leadership, Behaviour, Personal Developmentand Welfare (LBPD&W) committee
Chair of Governors
Curriculum Governor Development & Training Governor
R Gell

Parent

TERM ENDED JUNE 19

Parents
4
28/06/2019
LBPD&W committee
M Hughes
Co-opted
GB
4
28/06/2023
QTLO&A committee
Inclusion Governor (including pupil premium, Attachment & Trauma)
T Mears

Co-opted

TERM ENDED JUNE 19

GB
4
28/06/2019
QTLO&A committee
D Marshall
Executive Head Teacher
QTLO&A committee
LBPD&W committee
T Wood
LEA
GB
4
28/06/2023
LBPD&W committee
Vice Chair of Governors Safeguarding Governor
T Sheppard

Co-opted

RESIGNED OCT 2019

GB
4
04/12/2023
QTLO&A committee
T Piggott

Staff Governor

RESIGNED SEPT 19

GB
4
17/05/2021
QTLO&A committee
S Mason

Co-opted

RESIGNED JULY 19

GB
4
19/09/2021
LBPD&W committee
Health and Safety Governor
J Mick

Co-opted

RESIGNED NOV 19

GB
4
01/11/2021
LBPD&W & Pay committee
N Atkinson
Co-opted
GB
4
10/07/2023
QTLO&A committee
Early Years Governor
Full committee voting rights
E Lindsay
Parent Governor
Parents
4
13/03/2023
QTLO&A committee
Mini Governors & Community Engagement Governor
N Smith
Co-opted
GB
4
22/05/2023
Health & Safety Governor
R Thomas
Co-opted
GB
4
10/07/2023
S Breeze
Staff Governor
GB
4
09/10/2023
M Dixon
Parent Governor
GB
4
11/12/2023
E Molea
Clerk
Name
Name of Business Including:
Nature of Business
Nature of Interest
Date of Appointment or Acquisition
Date of Cessation of Interest
Date of Entry
G Duff
National Leader Governance – Governor Support
Chair of IEB Harbour School appointed by Portsmouth City council Chair of IEB Littlegreen Academy appointed by Solent Academies Trust Co-Opted Governor – Glenwood School
Governance
Governing Body Support
01/03/2015
01/07/2016
01/02/2019 01/09/2018
01/09/2019
M Hughes
Governor of Newtown School
School Governance
Governing body
01/09/2016
11/09/2019
D Marshall
Castle Fire Protection LTD
Executive Head Teacher (EHT) of The Federation of Elson and Gomer Infant Schools
Fire Alarms
School
Director
EHT
01/05/2008
03/07/2015
10/10/2019
T Wood
Sailing Centre
Civil Servant
Manager
13/01/2020
N Atkinson
Little Barn Owls – Rowner Family Centre
Pre School
Head of Rowner Family Centre
01/09/2017
11/09/2019
E Lindsay
NIL
09/09/2019
N Smith
NIL
03/06/2019
R Thomas
08/10/2019
S Breeze
Teacher at Elson Infant School
School
Teacher
09/10/2019
M Dixon
NIL
28/01/2020
E Molea
Working for HCC Children Service ETHNIC MINORITY AND TRAVELLER ACHIEVEMENT SERVICE
Support
Work related
13/04/2016
11/09/2019
If you would like to contact the Governing body please contact the office.
Miss Breeze

Mr Duff

Mr Smith

Mr Thomas

Mr Wood

Mrs Hughes

Mrs Lindsay

Mrs Marshall

Executive Head Teacher and Designated Safeguarding

Ms Atkinson
More information regarding governors is listed below.